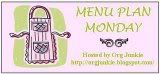 Today, Sunday, we had:
Roast Turkey (using the leftover oriental sauce that Liam made for the grilled fish on Friday, to baste the turkey with as it cooked -- turned out pretty good)
Steamed Broccoli
For the rest of the week I'm just going to list the possibilities but not by order of day -- my OCD side bugs me if I attach the meals to days and then it doesn't happen.
Spaghetti with meatballs and sauce, garlic bread, salad
Sweet and Sour Chicken, Potstickers, Rice and Beans
Tacos/Tortillas with fixings, and/OR chili (using frozen taco meat from last week; I made double, then froze half)
Homemade pizza
Salmon with wild rice and asparagus (that will be on Friday)
Chicken Fettucine, salad

Whew! That wasn't too bad.
If we have enough leftover turkey, I may make some turkey quesadillas with whole wheat tortillas and cheddar/monterey and beans and whatever little bits and pieces are in the fridge -- or have Liam do it.
Liam wants to make scones so we're going to plan that for Tuesday or Wednesday morning.
But I'd like to start trying one or two new recipes per week. The list above exhausted the bulk of my repetoire.
43 Things: On planning meals in advance