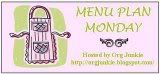 To cope with my ongoing
Menu Planning
blues, I am going to start using the
Weekly Menus
at
menus4moms
as a "spine". They are free, too!
I always seem to do best with things if I have a pre-determined guide with a lot of flexibility to adjust. (
note to self: remember that
). Also, I've noticed that the baseline guide almost always has to be free or very affordable. If I have to pay too much money for it, I build up a resentment that makes it hard to follow it at all.
I was using the weekly menus as a base for a few weeks back in winter. I forget what sidetracked me, but now I think it would simplify my life to go back and try again. Hoping that this blog will help me stay on track better about that.
The menu list given for this week is:
Monday -

Chicken Cheese Quesadillas
Salad
Peaches

Tuesday -

Thai Noodles with Vegetables and Peanut Sauce

Wednesday -


Mandarin Topped Chops
Rice
Lima Beans
Salad


Thursday -


Subs
Potato Salad
Veggies and Dip

Friday -

BBQ Chicken
Sauteed Okra
Applesauce
We have fish on Fridays, so that will move the chicken to Thursday probably.
We'll do the quesadillas. We haven't had those for a long time.
We'll do the subs on a football camp night.-- T/W/Th

We'll do the BBQ chicken, though subbing broccoli or beans for the okra.
No chops. I think I'll make nitrate-free hot dogs instead.
And we'll have some sort of oriental night -- maybe I'll try to make some Thai noodle type thing to go along with whatever else we have.

Friday will be salmon or mahi-mahi -- this is the day we stock up on Omega Oils for our brains.
One day this week will be homemade pizza day.
There, that wasn't so bad! It only took a few minutes and now I won't have any vexing decisions to make at dinnertime.